Posters, wall charts and other materials for display reach large target audiences when placed strategically, i.e. where they are most likely to meet the target's glance. They can be used in public places, in campaign events for higher visibility, and to back up presentations. When based on strong visual images, they can communicate messages across languages and literacy barriers.
Bear in mind:
Quality design and pre-testing are particularly critical with displays, which tend to offer little space for explanations. They may be misinterpreted if poorly designed. You need to be certain that people grasp your message at a glance and are immediately attracted to it.
Picture scenes that target audiences are familiar and can identify with: background, dress and looks should be close to the situation the target audience lives in.
Examples
The South African NGO Nisaa has co-operated with Adlib Studios to produce posters for the "Consent is Sexy" campaign that reflect the diversity of South African society. The posters show young people from different backgrounds on the same image, or depict persons whose looks may be associated with different communities within South Africa.

As part of the global campaign Sixteen Days of Activism to End Gender Violence, UNIFEM, with support from the UN Integrated Mission in Timor-Leste (UNMIT), the Secretary of State for the Promotion of Equality (SEPI) and the Association of Men Against Violence (AMKV) launched a multi-media campaign against violence against women in Timor Leste. The nationwide campaign featured 11 of Timor-Leste's foremost figures including President Jose Ramos Horta, Prime Minister Kay Rala Xanana Gusmao, and the President of the National Parliament Fernando "Lasama" de Araujo, with their arms crossed to support the UN Action against Sexual Violence in Conflict.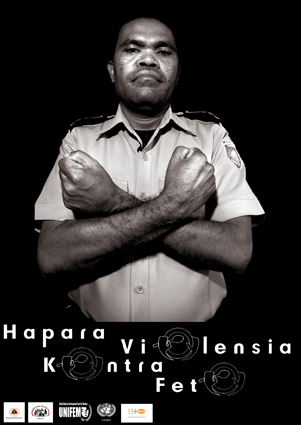 The 2009 poster campaign against violence against women by the Chile Network against Domestic and Sexual Violence (Red Chilena contra la Violencia Doméstica y Sexual) has developed very short and compelling messages.
The Feminist Poster Project offers free, generic posters that can be downloaded from its site for local events. It includes posters that can be used in campaigns to end VAW, e.g. an image advertising for "Take back the night" marches.
Billboards and street banners are large-size advertisements, several meters tall and wide, usually posted near or across busy roads so that they catch the attention of the passer-by.
Examples:
The 'Say No – Unite to End Violence against Women' campaign has created banners in English, Spanish and French displaying the campaign message. See the organizer's toolkit.
Futures without Violence campaigns to end intimate partner violence. One major component of their programming involves working with men and boys, through their "Coaching Boys into Men" initiative. To reach large numbers with their messaging, a large-screen billboard was launched in busy Times Square, New York City.
Transportation advertisements display the message on the side or the back of buses, trains and other modes of transportation. In Asia, campaigners have used motor rickshaws for similar purposes – a lower-cost, eye-catching variation. In some cities, campaigners have also used other modes of transport for advertisements such as taxis, subways and trains.
Two cycle rickshaws carry messages against violence against women at the We Can campaign launch in Gaibandha, Bangladesh, in September 2004.
Refer to the section on Community Mobilizing for tips on "low-tech" displays, such as murals.