In conflict-affected settings, the reasons for the perpetration of VAWG are often attributed to the conflict itself, with the related implication that ending conflict will end and/or significantly reduce levels of certain forms of VAWG (such as sexual violence). While conflict certainly may exacerbate certain forms of violence, the underlying causes of violence are associated with attitudes and beliefs that promote and/or condone discrimination and violence against women and girls, whether during conflict or during peacetime.
It is critical for programmers and advocates working in conflict-affected settings to understand the differences and be able to distinguish between causes and contributing factors (and to contextualize them), as any long-term efforts to reduce violence against women and girls must address root causes as well as contributing factors, even in a crisis context.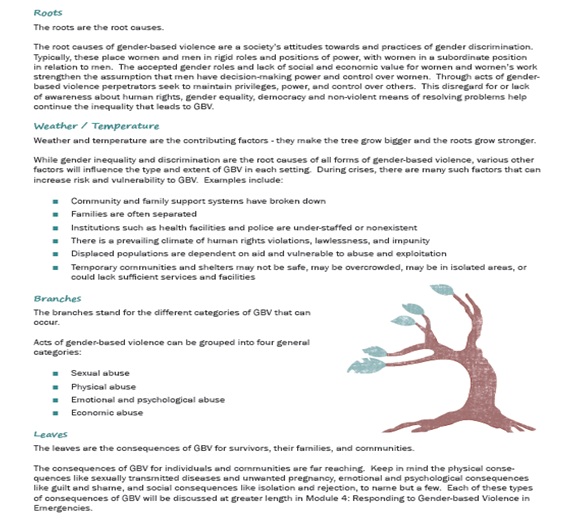 Source: UNFPA, Curriculum Guide for Managing Gender-based Violence Programmes in Humanitarian Settings, 2011, p 16.
Linking VAWG to its roots in gender inequality means that those working to reduce VAWG in humanitarian settings must work towards long-term social and cultural change. Some humanitarian actors may argue that such work is outside their remit of life-saving, emergency response. However, responsibility to address VAWG is derived from the humanitarian responsibility to protect, and is reiterated in several globally agreed upon standards and guidelines, such as the Sphere Standards, the IASC GBV Guidelines, the IASC HIV Guidelines, etc. (For more information about the humanitarian mandate to address VAWG, see Section II.)