The nature of health interventions should evolve as capacity develops. Once the initial stage of the emergency has passed, more comprehensive services can be provided: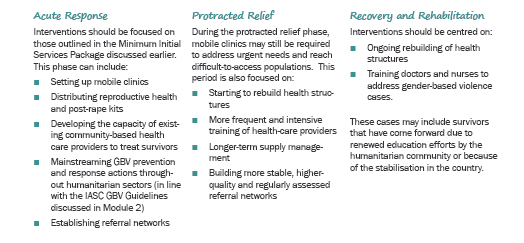 Excerpted from UNFPA. 2012. Managing Gender-based Violence Programmes in Emergencies: E-learning Companion Guide, pg. 82.
The post-emergency phase offers an opportunity to expand service delivery, to increase the quality and availability of services, and to improve policies and guidelines related to addressing VAWG in the health sector. The IASC GBV Guidelines recommend the following actions in the post-emergency phase:

Expand medical care for survivors
Establish or improve protocols for medico-legal evidence collection
Integrate VAWG medical management into health system structures, national policies, programmes and curricula
Conduct ongoing training and supportive supervision of health staff
Conduct regular assessments on quality of care (IASC, 2005).
Two potential approaches to improving health sector response in the post-conflict/recovery phase are described below: one-stop centres and screening.