In many countries, legislation is still not comprehensive and where it is, procedures for prosecuting crimes of VAWG often discriminate against the survivors, exposing them to further humiliation and re-victimisation (adapted from Bastick et al, 2007).
Post-conflict settings can offer a unique opportunity for a country to revise and redraft constitutions and legislation, which have long-term effects on peace, security and the status of different groups within society, including women. During this process it is important to address the legacy of VAWG during the conflict and build on existing legislation to increase the protection of survivors and the criminalization of VAWG. National laws and policies should meet international human rights standards, as well as the needs of the community (adapted from Bastick et al, 2007).
The first aim of law reform is to ensure that laws comply with basic rule of law principles. New laws must:

Hold all persons and institutions, public and private, accountable to the law and maintain separation of powers (including judicial independence);

Adhere to international human rights norms and standards;
In post-conflict settings, the following are considered best practice standards for establishing a strong legal framework:

Support the development of an overall law reform strategy for the sector

Coordinate with other law reform actors and sectors

Recognize that every sound law reform process begins with a sound assessment of the existing laws

Have clarity in choosing an appropriate law solution, as well as political buy-in

Carefully consider the timing and speed of law reform

Support the development of a nationally owned law reform strategy

Set an achievable timetable for reform

Ensure that new laws comply with international human rights norms and standards

Choose expert national and outside legal drafters wisely for crafting the text of news laws

Make law reform inclusive and foster widespread public participation. Make consultation and participation as a component to drafting laws

Ensure the use of national actors in drafting laws so that legal concepts included conform to domestic laws.

Ensure comprehensive training for all actors who are part of the justice system—judges, prosecutors, police, defense counsel, and court administrators—and inform them about new or amended legislation (excerpted from UNODC and United States Institute of Peace, 201, pp. 60-68).
Table 1 below identifies some objectives and strategies related to improving laws and policies on VAWG.
Table 1. Objectives and strategies to improve laws and policies on VAWG

Objectives

Strategies

• To strengthen women's rights

• To strengthen and better implement criminal sanctions for perpetrators

• To ensure protection for survivors (privacy and security) by police and judicial institutions

• To require a multi-disciplinary and comprehensive response to survivors

• To improve criminal law procedures

• Develop national plans or strategies to combat VAWG

• Undertake national and international advocacy campaigns

• Ratify international human rights agreements and—where ratified—improve implementation

• Ensure specific legislation on family, domestic or sexual violence, as well as resources required for its implementation

• Develop legal tools such as protection orders

• Revise relevant provisions of the civil, family and criminal code

Source: Bott, S., Ellsberg, M. and Morrison, A. 2004. Addressing Gender-Based Violence in the Latin American and Caribbean Region: A Critical Review of Interventions. Available in English.
Experience has shown that women have used post-conflict settings to reshape their roles in society and advance women's rights. For example, some of the most significant changes with respect to women's rights in sub-Saharan Africa have taken place when there were opportunities for legislation reform, often after major civil conflicts. Of the countries that have passed legislation on women's land rights in recent years, five out of seven did so as part of post-conflict reform: Mozambique, Namibia, Rwanda, South Africa and Uganda. Similarly, many of the countries with more than 30 percent women's representation in parliament in sub-Saharan Africa have come out of conflicts, including Angola, Burundi, Mozambique, Rwanda, South Africa and Uganda. In all cases, as mandated by CEDAW, temporary special measures, including quotas, have been used to boost women's representation (see figure below).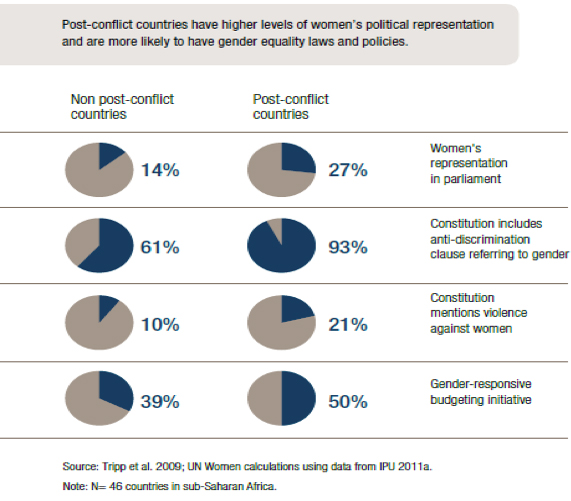 Source: UNWOMEN. 2011. "Progress of the World's Women 2011-2012: In Pursuit of Justice" pg. 100.
Some guiding principles for developing and monitoring national legislation are presented below. Essentially, it is important to ensure that the legislation:

Is based on reliable evidence.

Is based on international and regional human rights frameworks for legislation on VAWG.

Is based on specific guiding principles.

Contains specific implementation mechanisms.

Provides equal application to all women.

Includes measures to address multiple discrimination.

Formalizes the relationship between the formal justice system and customary/informal justice mechanisms.

Amends and/or removes conflicting legal provisions (DAW/DESA, 2010).
Additional Tools
For more information on drafting, advocating for, implementing and monitoring national legislation see Legislation module.
The United Nations Rule of Law Indicators. Implementation Guide and Project Tools (The United Nations Department of Peacekeeping Operations (DPKO) and Office of the High Commissioner for Human Rights (OHCHR), 2011). Pre-tested instrument that monitors changes in the performance and fundamental characteristics of criminal justice institutions in conflict and post-conflict situations. Available in English.
Model Strategies and Practical Measures on the Elimination of Violence Against Women in the Field of Crime Prevention and Criminal Justice: Resource Manual (International Centre for Criminal Law Reform and Criminal Justice Policy, 1999). Available in English and French. Original Strategies and Practical Measures (1999) available in English; Updated (2009) available in English.
Handbook for Legislation on Violence Against Women (United Nations Division for the Advancement of Women in the Department of Economic and Social Affairs (DAW/DESA), 2010). This handbook provides detailed guidance to support the adoption and effective implementation of legislation that prevents violence against women, punishes perpetrators, and ensures the rights of survivors everywhere. Available in English.
Additional Resources
Struggling for Justice…Best Practices Compiled by Gender Justice & Protection Project to Curb Violence Against Women (UNDP Pakistan & UNOPS. 2011). Available in English.
Achieving Justice for Victims of Rape and Advancing Women' s Rights: A Comparative Study of Legal Reform (Thomas Reuters Foundation (for MADRE), 2011) Available in English.
Sexual violence legislation in sub-Saharan Africa: the need for strengthened medicolegal linkages (Kilonzo, N., Ndung'u, N., Nathanburi, N., Ajema, C. Taegtmeyer, M. & Theobald, S., 2009). Available in English.