Coordinated responses seek to increase the availability and accessibility of appropriate resources that support victims/survivors and build their trust by equipping professionals with appropriate skills and knowledge. This includes developing referral processes to the specialist services best equipped to address the victim/survivor's needs, and ensuring that she can access these specific services quickly and easily from sensitive, well-trained professionals, without having to repeat her story multiple times. This type of arrangement has been called a 'web of accessibility' (Texas Association Against Sexual Assault, undated) or a seamless 'intervention chain' (Federal Ministry for Family Affairs, Senior Citizens, Women and Youth, Germany, 2004). A coordinated response not only overcomes obstacles to support but also increases the likelihood that the needs of victims/survivors will be adequately addressed.
Coordinated responses could also include schools, related social services, such as housing departments, and religious institutions (churches, temples, mosques, etc.). Because these are institutions where women and girls may seek support, those who are at risk can be identified and referred to appropriate resources. For example, Asian women in the UK said school was one of the only places they were able to go to alone, making it the best place for them to access information about support (Regan et al., 2003).
The following models are examples of what inter-linked sectors and services might look like, with particular reference to addressing sexual violence and intimate partner violence.
The Domestic Abuse Intervention Programs (DAIP) developed the "Duluth Model" as an ever-evolving way of thinking about how a community can work together to end domestic violence. The graphic below illustrates what organizations are included in a "Duluth Model" coordinated community response and what factors are considered in the approach.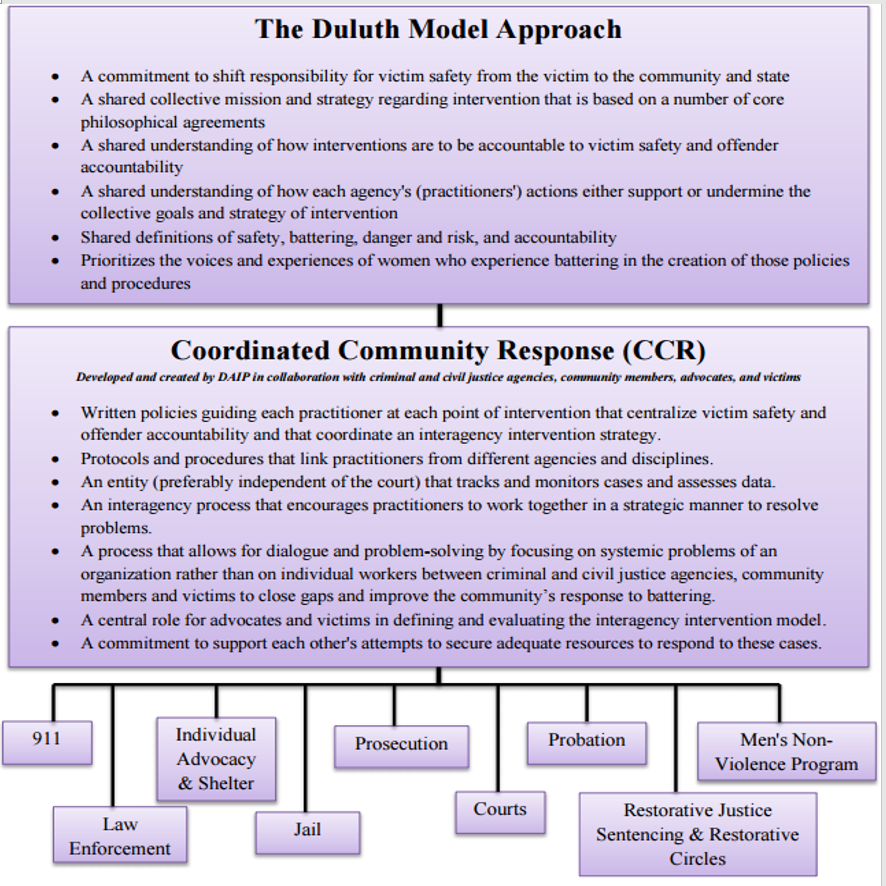 The German model of coordination between state agencies and NGOs as an 'intervention chain' illustrates the inter-connections among all the relevant institutions and services responding to intimate partner violence.
The 'intervention chain' in Mecklenburg Vorpommern, Germany
Source: Logar, R. (2006) Bridging Gaps – From Good Intentions to Good Cooperation: Manual for Effective Multi-Agency Cooperation in Tackling Domestic Violence, Vienna: WAVE, available in English.
In Latin America the most common forms of coordinated response are 'integrated care models' led by public health partnerships. They focus primarily on delivering care and support in relation to sexual violence, although there is some overlap with other forms of physical assault, particularly in the context of intimate partner violence.
The model below was developed in the health sector in Latin America and is based on lessons learned from its implementation in the region, an international literature review and promising practices (Troncoso et al., 2006). It illustrates some of the links among different services that this type of coordinated response is trying to achieve and the range of services it can make available to victims/survivors.
Integrated model of care for victims/survivors of sexual violence
Source: Troncoso, E., Billings, D., Ortiz, O. and Cuautli Suárez, C. (2006) Getting It Right! A Practical Guide to Evaluating and Improving Health Services for Women Victims/survivors of Sexual Violence, Chapel Hill, NC: Ipas, available in English and Spanish.
The Multi-Sectoral Programme on Violence Against Women undertaken by the Government of the People's Republic of Bangladesh involves ten ministries and a multi-sectoral management set-up. The following diagram shows the multi-sectoral management structure, explaining the roles of each ministry in the project's components. Multi-Sectoral Programme on Violence Against Women, Bangladesh, 2015.
The Multi-Sectoral Approach of MSPVAW
Example: One-stop Centres for South Africa's Survivors of Sexual Violence
South Africa has created the Thuthuzela Care Centres (TCC) that facilitate multisectoral collaboration between health, police, courts, and social services to provide quality, sensitive treatment for rape survivors. The goals of Thuthuzela Care Centres are to reduce secondary victimization, reduce waiting times and increase conviction rates. The ten centres spread throughout the country provide survivors with a range of services, including: emergency medical care; testing for pregnancy, sexually transmitted infections and HIV; post exposure prophylaxis, antiretrovirals, trauma counselling; court preparation, referrals and follow up support. Survivors are entitled to services even if they do not wish to prosecute the perpetrator (Vaz, 2008). Successful implementation of Thuthuzela Care Centres is ongoing with growing public awareness of the centres. An analysis of 10 Thuthuzela Care Centres conducted in 2008 found the following challenges: -staffing shortages; - a need for increased training; - inconsistencies in sexual assault management, including HIV testing and provision of post-exposure prophylaxis; - limited access to psychosocial counseling; and - inconsistent survivor follow-up systems. Improvements to the centres include provision of equipment, such as sterilizing machines; increased training for survivors; creating child-friendly spaces; and making Thuthuzela Care Centres more survivor-friendly (Vaz, 2008).
See the brochure developed by the National Prosecuting Authority of South Africa.
Read more about the centres and see a list of locations by visiting the UNICEF South Africa website.
The lack of a national coordinated response can seriously affect victims/survivors when policy and provision of services vary depending on where women and girls live. Those in rural areas often have the fewest options. Transportation costs, or simply not being able to leave the area, are often barriers to seeking support (McCarry & Williamson, 2009).
Map of Gaps Report (United Kingdom)
A research project in the UK showed that without a national level coordinated approach to violence against women, the availability of specialized support services varied too widely. The study showed that a few areas have multiple services addressing different forms of violence, and many areas have no specialized support at all, even for the most common forms of violence (Coy et al., 2007; 2009). The mapping in this project was undertaken at a two-year interval to highlight the gaps in provision (to see the maps go to the Map of Gaps reports and maps).
A policy at the national level that set minimum levels of response would ensure violence against women was recognised as a priority issue in every area, thereby offering access to universal support for all victims/survivors regardless of their location. The Map of Gaps reports demonstrated for example that in Scotland, where a strategic integrated approach to violence against women had been in place for several years, support services were more equitably distributed.
See the full report.
At the local or regional level, one of the tasks coordination bodies can undertake is to assess gaps in service provision and develop plans for developing new services or maximizing the reach of existing ones (Hague, 2000). This can be done, for example, through publicity and outreach and/or by enabling services to respond to additional forms of violence against women beyond those that are their primary concern.