As part of initially establishing a common vision and conceptual framework, shared goals and objectives need to be agreed upon. A goal is the overall aim or highest-level result that safe cities for women programme partners are trying to achieve. An objective is like a goal, but it is more specific and time-sensitive. An outcome is the actual result that the programme partners would like to see achieved through their collective efforts in the community. Objectives can be short, medium and long-term, depending on the time-investment required to achieve the envisioned solutions and results.
As with any initiative working to reduce violence against women, it is important to recall that effective programmes are likely to result in increased reports of violence since they encourage more women to report violent crimes because more women will be aware, as a result of the programme, that violence against them in public places is a crime and that mechanisms for reporting and seeking recourse exist. If more women report violent crimes it may seems as though there is more crime, when really number of crimes may be the same – it is only the number of reported crimes that has increased. Alternative measures might include that more women and girls in the community are able to identify and take actions against instances of violence in public. For example, when the Holistic Response to Women Victims of Violence Programme started in Fuenlabrada, Spain, one of the outputs identified by programme partners was that women should report acts of violence against them, even if they had already suffered violence many times without reporting it. Ten years after the programme began it became evident that more women now report violence the first time they are victimized (Garcia, O., 2008).
For full information and definitions, and tips on developing a results framework, see the Monitoring and Evaluation section on Safe Cities and the general section on Monitoring and Evaluation available in the Programming Essentials section of this is site.
Here is a hypothetical example of how these concepts apply to safe cities for women programming, for illustrative purposes only:
GOAL: To reduce sexual harassment in the city and to increase women's and girls' feelings of safety in a specific neighbourhood/s in the city.
OBJECTIVES: To decrease the incidence (number of experiences) of sexual harassment women and girls experience in a year by X%; to increase the public's knowledge of what constitutes sexual harassment; and to increase women's confidence and desire to use public spaces in the city at night (measured by survey responses).
OUTCOMES: Increased use of public spaces by women; increased awareness of and reduced acceptability of sexual harassment among the general public; reduction of sexual harassment of women and girls in the city/the neighborhoods of intervention.
The specific goals, objectives and outcomes of each safe cities for women programme will depend on the most important issues local women face and the capacity of the programme to implement change.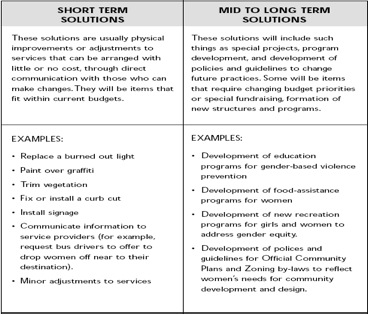 Image Source: Dame, T. and A. Grant. 2002. Women and Community Safety: A Resource Book on Planning for Safer Communities. Cowichan Women Against Violence Society, Canada: page 65. Available in English.
See the illustrative theory of change and logical framework from the UNIFEM Global Programme: Safe Cities Free of Violence against Women and Girls (2009-2014).

Example: Community Coordination for Women's Safety Program, British Columbia, Canada:
To facilitate the development of an effective and consistent community response that enhances assaulted women's access to the justice and other relevant systems.
To provide support to communities for the implementation of violence against women policies.
To assist communities to identify and bring forward issues that need to be solved at the provincial level.
To increase communities' ability to analyze issues related to women's safety.
To assist communities in addressing and removing barriers that limit women's access to the justice system and other relevant response systems for women who face particular discrimination.
To support the development of solutions and strategies at the local, regional and provincial levels that address assaulted women's access to the justice system and other relevant response systems.
To analyze and find solutions for local, regional and provincial issues using a range of initiatives to effect change.
Source: Ending Violence Association of British Columbia, no date. 'About Us' in Community Coordination for Women's Safety Program. Available in English.
Example: Aims statement, Making Safer Spaces Project, United Kingdom
To improve community safety with women in urban environments.
To involve women as active participants in the change process.
To enable a connection between women and policy makers so that policy is informed by community experience.
To train and support women living in communities to engage with community safety issues.
To promote gender perspectives on community safety policy and practice.
To work with organizations in the community, voluntary, academic and statutory sectors to engage with women on community safety issues.
To convene a network on gender and community safety.
Source: Women's Design Service, UK. 'Making Safer Places Project' in Women's Design Service (no date). Available in English.