The health sector can play a critical role in preventing violence by changing attitudes and behaviours that contribute to violence against women and girls, not among health care providers and other health staff, but also in the wider community.
On a national level, the health sector can develop

national laws and policies

, ensure

funding

, and conduct public health campaigns to raise awareness that violence against women is unacceptable.
At the institutional level, health providers can

develop prevention programming

targeting local communities.
Within health institutions, providers and other health staff can participate in

training

to challenge harmful attitudes of health workers and ensure that staff interactions with survivors are supportive, non-blaming, and grounded in

human rights-based

and

survivor-centred approaches

.

Health institutions can also reflect the unacceptability of violence against women and girls by providing informational media, such as pamphlets and posters, in hospital and clinic waiting areas.
As extension and mobile workers, health providers can participate in radio programmes and community fora (e.g. special events, visiting schools and workplaces). This can also build confidence in the health sector's response and encourage survivors to come forward, disclose the abuse they have experienced and receive care and referrals.
Many other responsibilities of the health sector that may not be directly understood as violence prevention work can nevertheless contribute to overall efforts to address violence against women, some of which are highlighted below: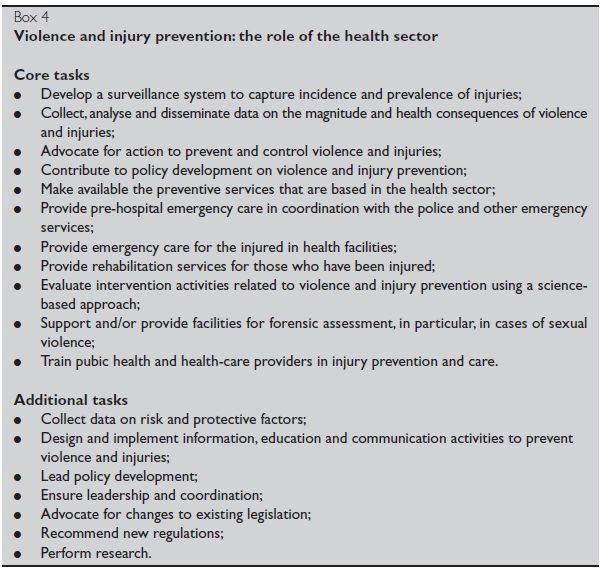 Excerpted from: World Health Organization, 2005a. "Developing National Policies to Prevent Violence and Injuries: a Guideline for Policy-Makers and Planners," p.11.
Additional Resources:
For more information on prevention, see the general overview on primary prevention and dedicated module on primary prevention.
Preventing intimate partner and sexual violence against women: taking action and generating evidence (World Health Organization/London School of Hygiene and Tropical Medicine, 2010). Available in English.
Violence Prevention Website. Available in English.
Prevention Connection Website. Available in English.
Prevention Institute Website. Available in English.