The majority of research and programmes on HIV prevention have focused on changing individual knowledge, attitudes and behaviour without an analysis on how social norms and lived realities affect men and women differently. Where research has acknowledged difference in vulnerability of women and girls to HIV infection, it has often been in the context of increased risk due to biological factors without acknowledging socio-economic factors. Early advocacy around the alarming pace at which women were being infected had the intention of highlighting inequality between men and women as an important driving factor for women's increased risk, though often it inadvertently placed the responsibility of preventing the spread of HIV back on women without acknowledging the role of men (Campbell, 1995; Shefer, 2005). The expectation that changing knowledge and attitudes can enable women to refuse or negotiate safe sex ignores the complex reality that women and girls live in (e.g. early marriage, weak economic opportunities and dependency on intimate partners, high rates of abuse), which limit their ability to make their own decisions even when they have the knowledge and skills related to preventing HIV.
Popular HIV prevention strategies have been directed to people who possess a certain level of control and autonomy in the decision-making over their sexuality and other areas of their life; this fails to take into consideration the situation of women and girls (Krishnan et al., 2007 as cited in Luciano, 2009). This has been especially notable in the widely used Abstinence, Be Faithful, and use Condoms (ABC) method of prevention. Abstinence, Be Faithful, and use Condoms programmes aim to create individual behaviour change. Their method of doing so typically fails to address the external factors that limit the sexual autonomy of women and girls and place them at risk of HIV infection. In many contexts across the world, women and girls cannot abstain from being raped, cannot stop their husbands or partners from being unfaithful, and lack the power within their abusive relationships to negotiate the use of condoms. Prevention programmes which focus on marriage, such as those which focus on 'abstinence until marriage' as a form of prevention, are also problematic. These programmes fail to address the reality that in some countries married women have higher HIV prevalence than those who are not married (Human Rights Watch, 2005, cited in Ward, 2008).
Building on lessons learned, key approaches to prevention of violence against women and girls and HIV include: raising overall community awareness, mobilizing community-based efforts, providing support for evidence-based advocacy; and carrying out mass media campaigns that improve knowledge, attitudes, and practices of community members with regard to promoting and protecting girls' and women's rights to be free from violence and HIV and AIDS.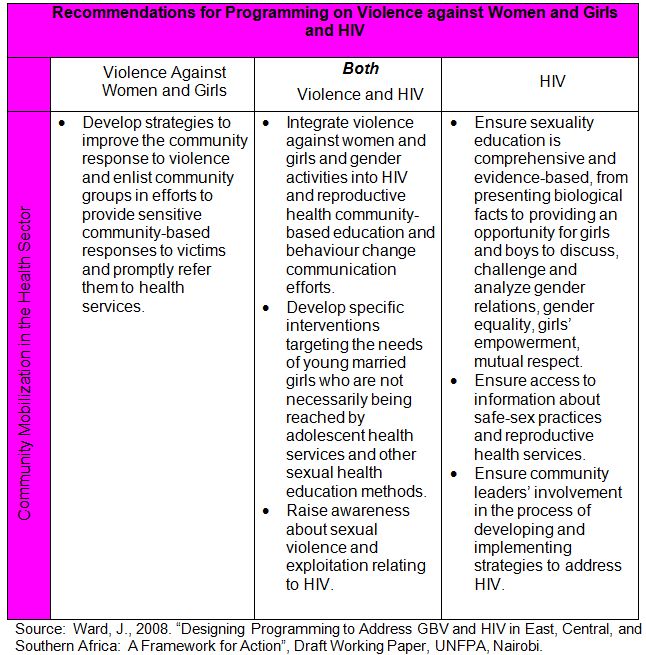 Communication messages and tools must take into consideration the context in which beneficiaries are living in and what kind of influence this has over their abilities to act on certain types of knowledge and information (UNAIDS Interagency Task Team on Gender and HIV/AIDS, 2005). Messages should also avoid supporting harmful stereotypes about women, men or any marginalized community that promote stigma.
For example, the following HIV testing and counselling message recently appeared in an industrialized country: "What kind of mother could have given her baby HIV? An untested one." Messages like this stigmatize women by suggesting that it is a mother's fault if her child is HIV positive (IGWG and USAID, 2004, cited in WHO, 2009a, pg. 13). This type of stigma causes discrimination, which can lead to the violation of human rights.
Avoid stigma by developing positive messages that promote and encourage the shared responsibility of women and men for sexual, reproductive and health choices (e.g., condom use, HIV testing, and antiretroviral prophylaxis) and for providing care to people living with HIV or AIDS and their families (WHO, 2009a).
The following acronym ACCEPT is useful when determining whether violence and HIV messages adhere to basic principles of good communication:
Affirm what is ignored and undervalued.
Correct ignorance, inaccuracies and lies.
Challenge dominant norms, perceptions and stereotypes that are degrading and perpetuate inequality.
Empower for action.
Present the negative into something positive.
Transform dominant perceptions and stereotypes.
Source: UNAIDS Interagency Task Team on Gender & HIV/AIDS, 2005. Operational Guide on Gender & HIV/AIDS: A Rights Based Approach, p. 33.
There have been a variety of efforts aimed at community mobilization and behaviour change related to HIV and violence against women using a variety of combined approaches (promoting rights and addressing underlying risk factors such as poverty and inequality); using different mediums (education in and out of school, mass media) and focusing on different key sub-groups of the population (e.g. men, adolescents). These efforts often:

address the environmental risk factors such as poverty and gender inequalities
promote rights which include raising awareness on the linkages of violence and HIV/AIDS within violence against women and girls programmes
provide formal and informal educational opportunities on HIV/AIDS and violence against women and girls, through curricula reform issues into school curricula or informal educational activities.
Illustrative examples include:
Focus Area

Case Example

Engaging Men and Boys

Africare's male empowerment project, "Man enough to care?", is designed to address the imbalance in rural Zimbabwe between male and female care giving for people living with HIV, by expanding men's roles in home-based care. The project has trained 120 men to be home care volunteers and to provide basic nursing care, infection control and psychosocial support. Carers also encourage positive living, assist in the preparation of wills, and offer bereavement counselling. It was found that associating values and activities such as caring, nursing and the protection of families from HIV transmission with traditionally male characteristics like strength, machismo and power encouraged men to play a more active part in HIV prevention and AIDS-related care. By supporting male volunteers as secondary carers, the project sought to increase men's willingness and ability to provide primary care to their own family members, reduce the burden on women and girls, and increase the quantity and quality of support and care for people living with HIV in rural communities (excerpted from WHO, 2009a. Integrating Gender into HIV/AIDS Programmes in the Health Sector: Tool to Improve Responsiveness to Women's Needs. Geneva, Switzerland: WHO, Department of Gender, Women and Health, p. 69).

Program H. Program H focuses on helping young men question traditional norms related to manhood and on promoting the abilities of young men to discuss and reflect on the "costs" of inequitable gender-related views and the advantages of more gender equitable behaviours. Intervention activities include two main components: (1) a field-tested curriculum that includes a manual and an educational video for promoting attitude and behaviour change among men, and (2) a lifestyle social marketing campaign for promoting changes in community or social norms about what it means to be a man (Excerpted from Horizons Program and Instituto Promundo, 2006).

Download the Program H manuals in English, Hindi, Portuguese, Spanish and Vietnamese.

Download the Young Men and HIV Prevention: a Tool Kit for Action (Promundo and UNFPA), Available in English, Portuguese and Spanish.

Men as Partners. Established in 1996 by EngenderHealth, the Men as Partners Programme aims to decrease the sexual transmission of HIV and other sexually transmitted infections, unintended pregnancy and violence against women and girls by engaging men and boys in the caring for their health and the health of their partners and families. See the case study and evaluation.

Download the training manual in English.

I'm Worth Defending is a Kenyan non-governmental organization that works in the area of rape prevention through education, training, and support for public, organizations, and individuals. I'm Worth Defending integrates HIV/AIDS and violence against women and girls programmes through the following activities: Anti-rape Self- Defence, Assertiveness and Boundaries Setting Training for Women, Girls and Children; Engaging Boys and Men to end SGBV; Training on Human Rights; Advocacy, networking and collaboration with other stakeholders both locally and internationally; and Capacity building, Advocacy and lobby for the rights of women and children.

Engaging

Communities

Raising Voices works in the area of violence against women and girls both in Uganda and regionally. Their work includes programme design and development, creation of programme tools and communication materials, and providing technical support and capacity building on violence against women and girls, HIV and human rights. One of their largest programmes, including with a strong evaluation component is called SASA! or now in "Now!" in Swahili. Read a case study on their community mobilization effort, SASA!.

With the support of the United Nations Trust Fund to End Violence against Women, SASA! is being scaled up to reach communities across Uganda. See a short video describing their work.

See a full case study on SASA!

See the film used as part of their mobilization efforts.

Download the accompanying resources.

Stepping Stones workshops in more than 40 countries—primarily in Africa—promoting discussion and awareness about violence and HIV, have effected a reduction in male perpetration of intimate partner violence through community-based education working with men.

See evaluations of Stepping Stones.

Access the manual from South Africa in English.

Download other language versions and adaptations from the website.

Communications for Social Change

through education, entertainment and mass media (radio, television soap operas, internet)

Soul City South Africa and Soul City Regional support mass media "edutainment" to raise awareness and understanding of gender issues, HIV, violence against women and girls and people living with HIV.

See the programme description and evaluation.

Nicaragua-based Puntos de Encuentro (Meeting Points) produced Sexto Sentido, a widely popular half-hour weekly telenovela, or soap opera. The show, which has been broadcast in Costa Rica, Honduras, and the United States, features characters and themes that encourage viewers to question the legitimacy traditional ideas regarding gender roles, and men's and women's relationships to the home, the workplace, and society at large. In addition, Puntos de Encuentro also launched an ongoing campaign called "Necesitamos Poder Hablar" ("We need to be able to talk") which focuses on machismo as a risk factor for the incidence of sexual abuse and the transmission of HIV.

Breakthrough (India): Breakthrough is an India and U.S.-based international human rights organization that mainstreams discussions about violence against women and girls and HIV/AIDS by translating them into popular media-based message formats. Within its first full year of existence, Breakthrough had produced Mann ke Manjeerée: An Album of Women's Dreams (2000), an acclaimed album and series of music videos that explored a mother and daughter's escape from domestic violence and other themes that challenged cultural taboos and stereotypes. In 2005 they launched their "What kind of man are you?" multimedia campaign, asking men for the first time directly to wear condoms to protect their wives from HIV infection and explaining that out of the 2 million women in India who are infected with HIV/AIDS, most have contracted it from their husbands. This campaign composed of print ads, radio spots, in-theatre PSAs and billboards, has been translated into seven languages. The campaign has reached 75 million people and prompted more than 8,000 text messages and other inquiries to Breakthrough's anonymous query hotline.

In 2008 Breakthrough launched an award winning campaign, Bell Bajao or Ring the Bell, asking men and boys to bring domestic violence to a halt by performing this simple bystander intervention. Through their public service announcements on television, radio and press, online multimedia campaign and educational materials and travelling video van, over 129 million people had been reached by the end of 2010. At the 2010 Clinton Global Initiative annual meeting, a commitment was announced to take Bell Bajao to global scale with the full support of the United Nations Secretary-General.

Breakthrough has also trained more than 75,000 rights advocates. Their combined efforts have resulted in a 49 percent increase in the number of people that are aware of the Protection of Women from Domestic Violence Act in India and a 15 percent increase in access to services for survivors.

Access the "What kind of man are you?" multimedia campaign.

Read the Bell Bajao Case Study.

See the "Is this Justice" multimedia campaign against HIV discrimination evaluation.

Access the Bell Bajao/Ring the Bell Campaign.

Access additional resources on violence against women.

Download the "Strength in Action: An Educator's Guide to Domestic Violence" in English.

Download the Rapid Audience Assessment Survey Report.

Download the Most Significant Change Stories Report.

Download the Baseline Survey on Domestic Violence and HIV/AIDS.

Minga Peru's Intercultural Radio Educative Project to Prevent and Control Domestic Violence and HIV/AIDS. Minga Peru, a non-governmental organization supported by the United Nations Trust Fund, implemented an Intercultural and Educational Radio Project to address HIV/AIDS and violence against women and girls in rural communities and schools of the Peruvian Amazon. The overall objective was to reduce the number of cases of violence and HIV/AIDS in rural communities and schools in the Peruvian Amazon through the use of an on-air and on-the-ground communication strategy that was implemented from January 2006 to March 2008. 174 schoolteachers in 24 rural schools were trained by Minga Peru to integrate issues of domestic violence and HIV/AIDS in the secondary school curriculum, directly spurring class discussion on these issues – in multiple courses -- with some 4,650 students.

These ground-based, year-round educational efforts in rural schools were complemented with Minga's popular on-air, intercultural radio educative programme, Bienvenida Salud (Welcome Health) which purposely incorporated themes of domestic violence, HIV/AIDS, and others in its thrice-weekly broadcasts. Several students in each participating school were trained as radio correspondents, in-charge of encouraging youth in their respective communities to listen to Bienvenida Salud and then provide feedback, including proposing new subjects for inclusion and treatment on the radio programme.

The radio correspondents, along with their teachers and Minga's cadre of community-based promotoras (local women acting as agents of change) undertook training and other programmatic activities on the topic of domestic violence and HIV/AIDS for their respective communities. The project capitalized on the popularity and credibility of Minga's thrice-weekly radio programme (Bienvenida Salud), its on-the-ground community resource persons (community promotoras), and strategically leveraged it with a school-based initiative, involving teachers, students, and community members to prevent and reduce domestic violence and HIV/AIDS, empower victims of violence (mostly children and women), and reduce prejudice, stigma, and discrimination associated with being HIV-positive. An independent assessment of Minga's Intercultural Radio Educative Project found that the project had made a positive impact in the lives of participating communities. (Excerpted from Singhal, A. and Dura, L. 2008. "Listening and Healing: An Assessment of Minga Peru's Interculural Radio Educative Project to Prevent and Control Domestic Violence and HIV/AIDS" Report Submitted to Minga Peru/ United Nations Trust Fund to End Violence against Women, p.5)

Empowering women and girls

IMAGE: The Intervention with Microfinance for AIDS and Gender Equity. The Intervention with Microfinance for AIDS and Gender Equity is a programme in South Africa that addresses the environmental HIV risk factors of poverty and gender inequalities, including violence against women, by combining participatory training in gender awareness with a small scale loan programme. See a short write-up on the evaluation and the fuller evaluation.

Download the training manuals, Sisters for Life Volume I and Volume II.

Community-based HIV/AIDS/STD Response through Capacity-building and Awareness (CHARCA). Community-based HIV/AIDS/STD Response through Capacity-building and Awareness is a joint United Nations system project in partnership with the National AIDS Control Organization (NACO) of India. It aims to reduce the vulnerability of young women (aged 13-25 years) in the general population to the risk of HIV infection. It is being implemented in six localities in India. The key activities are: (1) awareness creation, (2) capacity building, (3) strengthening services, (4) creating an enabling environment, (5) building support structures. As a general population intervention, Community-based HIV/AIDS/STD Response through Capacity-building and Awareness works with young women as well as a range of groups that influence the lives of young women, including groups of young men, groups of older women and positive people's networks (Excerpted from UNODC).

See the baseline study.

See the final report.
Additional Tools:
For an additional list of continually updated resources, search the tools database by subject (e.g. prevention and/or HIV)
See also the dedicated programming modules on men and boys, prevention, adolescents and education.
Toolkit for Mainstreaming HIV and AIDS in the Education Sector: Guidelines for Development Cooperation Agencies (Joint United Nations Programme on HIV/AIDS Inter-Agency Task Team on Education. 2008). This toolkit aims to help education staff from development cooperation agencies, including development and humanitarian-oriented multilateral and bilateral agencies as well as non-governmental organizations and other civil society organizations, to support the process of mainstreaming HIV and AIDS into education sector planning and implementation. It provides resources and support to assess the progress countries have made with respect to HIV and AIDS mainstreaming; to identify entry points and opportunities; and to establish priorities for advocacy and action. It is designed to be used as a reference tool or a resource for training and discussion. Though not focused explicitly on violence against women it can be adapted to local needs and context. Available in English.
Inter-linkages between Culture, Gender Based Violence, HIV and AIDS and Women's Rights: Training Manual (SAFAIDS and Oxfam, 2008). This training manual is intended for use by community workers and counselors. It provides information and activities to encourage reflection on the linkages between culture, gender-based violence, the violation of women's rights and the spread of HIV in the African context. Available in English.
Our Turn to Tell: A Tool for Us! Kenyan Girls Tell their Stories (AfriAfya and Street Kids International, 2008). This tool includes 12 real life stories written my Kenyan adolescent girls on the topics of HIV/AIDS and violence against women and girls. Reflection questions are found at the end of each story and a facilitator's guide is attached which includes interactive activities to accompany each story in the booklet. This tool can be used alone or as part of an educational programme. Stories and activities in English, Kiswahili and Luo are included. Available in English.
Planning BCC Interventions: A Practical Handbook (Peter F. Chen for UNFPA CST Bangkok, 2006). The handbook, a resource for UNFPA staff and partners, aims to help practitioners plan and implement effective behaviour change communication (BCC) strategies in support of reproductive health, specifically around adolescent reproductive health (ARH) and HIV/AIDS prevention. The handbook provides an overview of the concepts of BCC, types of interventions, some theoretical frameworks behind BCC processes and detailed guidance for practitioners to plan design, execute, monitor and evaluate BCC activities. Though the handbook is not focused on violence against women, it provides guidance on planning and implementing communication initiatives for behaviour change, advocacy, or social mobilisation that can be adapted. Available in English.
The HIV/AIDS Emergency: Guidelines for Educators. Pretoria, South Africa: Department of Education (Jewkes, R. 2000). Available in English.
Beyond victims and villains: Addressing sexual violence in the education sector (Panos Institute. 2003). Available in English.